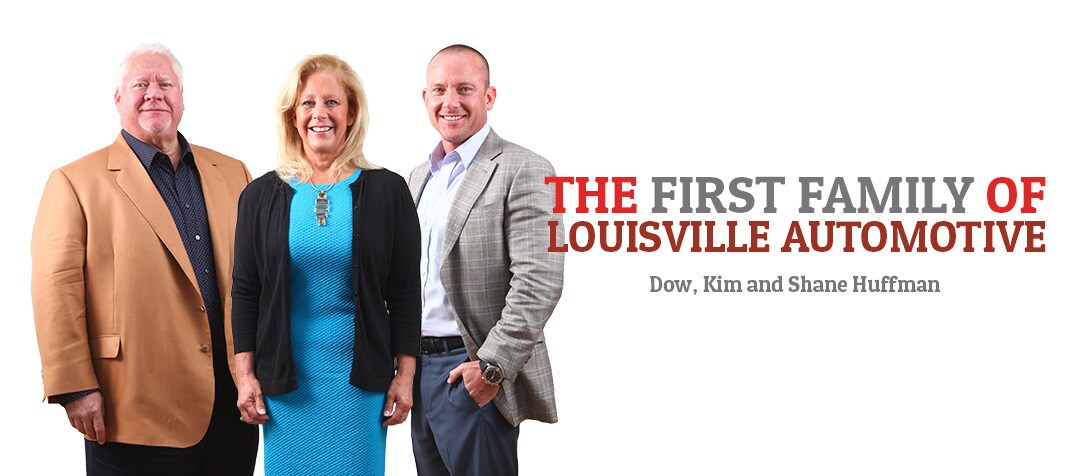 "The First Family of Louisville Automotive" is a claim that we, the Huffman family, stand strongly behind.  
As one of the last family-owned and operated dealership groups in Louisville, we are proud of our rich automotive history and strong community bonds. 
From 1969, when the late Neil Huffman opened his first dealership on Dixie Highway -- to today, under the leadership of Neil's son Dow and daughter Kim, and grandson Shane -- the Huffman name has been synonymous with integrity and transparency. 
We welcome you to j
oin us on our journey of how we became the First Family of Louisville Automotive.
   

First love.




Neil Huffman, pictured at age 2 in 1932, eagerly climbs aboard his own set of wheels.  It's love at first sight.


   
First iconic photo.

Ethel and Neil and the first of many groundbreakings to come.
  

  


First dealership.




Late 1969. Dixie Highway. The original. 

First Volkswagen Thing.

The first VW Thing in Kentucky belonged to Kim. Riding in style in '74.

  

  


First office.




Leading the Louisville automotive dealership industry with a smile. 

First bugs.

Neil was such a fan, he drove a canary yellow Volkswagen Beetle to work every single day.

  

  


First father/daughter late night meeting.




1981. No computers. Just paper, pen, chalk and a dream. 

First fundraiser.

Neil supporting the community in 1981. Ahead of his time.

  

  


First laughs.




Neil and Dow are all smiles as they celebrate the 7th anniversary of Neil Huffman Datsun, 1983. 

First luxury.

Offering shoppers top-of-the-line models with forward-thinking technologies, way back in 1989.

   
  


First Acura.




To this day, the only Acura dealership in Louisville. 

First finalist.

A 1992 Time Magazine Quality Dealer Award finalist.

  

  


First in class.




Shane attending the police academy graduation of his sister -- and current Neil Huffman HR Director -- Shannon Huffman in 1999. 

First plans to expand.

Shane and Neil scouting potential new properties in 2001.

  

 
 


First legend.




Pictured with Ethel, Kim and Dow at the St. Matthews Nissan store grand opening is Louisville basketball legend Darrell Griffith. 

First neighbor.

A family affair at the 2013 ribbon cutting of the brand-new Subaru dealership next door to the original Volkswagen store.

  

  

First family.




Three generations and going strong, with no plans of slowing down.